KELTON Trial a.k.a. TIMEX Black Max
One of the much sought after vintage TIMEX is the BLACK MAX. A full black sporty TIMEX which was promoted through a tv ad campaign in cooperation with Maserati Motor Cars. "Black Max is coming to town! A rugged watch! Only for real men!"
The TIMEX Black Max was produced from 1977 untill 1979 but as this KELTON box shows, it may have started as the TIMEX Trial! and later became Black Max when the TV ad campaign was launched. Another explanation is of course the difference in marketing approach between the US and Europe for TIMEX.
TIMEX Black Max and his Swiss 'rip-off'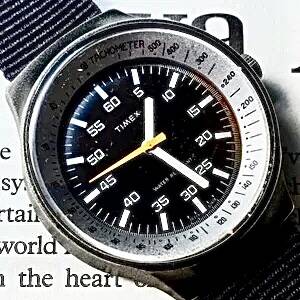 The CLARO watch is a Swiss made replica of the TIMEX Black Max. CLARO Watch SA was known for the production of Swiss pin-lever movements and watches.