In the late sixties TIMEX introduced their Fun Timer watches. A series of non-water resistant manual wound mechanical watches. In the seventies they became plastic water resistant watches. Strangely enough these watches are not to be found in any of the sales catalogs. Perhaps these watches were that different from their conventional portfolio that they were cautious not to offend their regular dealers and sales points. However, these Fun Timers definitely are FUN!
The plastic Fun Timer collection
These Fun Timers all had a monocoque (movement has to be removed from the front of the watch) plastic case with metal bezel ring, came in bright colors and some came in matching strap as you can see. Sort of an integrated bracelet.
Was this Fun Timer a ladies watch?
When looking at these 1974 and 1975 ads, it seems that these kind of Fun Timers were aimed at a female target audience. A series of plastic round and square cased watches in bright colours on plastic straps. So far the only reference I have found regarding these fashionable and high distinctive watches. Well, what's in a name. These watches definitely are FUN watches and clearly represent the roaring 70's.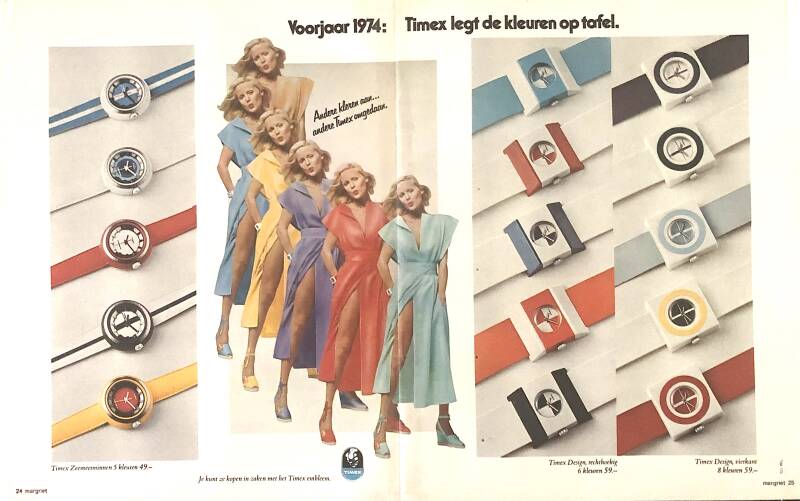 Fun Timer Time Capsule (1975)
Very excited to aquire a full set of a Kelton Fun Timer from 1975. Look at that box. Nothing less than a true time capsule. The dust on the strap is proof that this it is in a true NOS condition compleet with price tag and guarantee card. Reference 58113.
A beautifull black & white model from the Fun Timer series. Reference 29014.
Powered by the M80 manual movement.
It took some effort to get it in the current condition as it was heavily worn and needed some patching up.
Interested how? Here is the link of the fixing up of a Fun Timer.