In 1972 the first Q TIMEX Quartz watches were spotted in the TIMEX catalogs and in an intrusive advertising campaign. It was called The Time Machine and was available for only $125. And TIMEX claimed an accuracy of 15 seconds a month because of the micro-computer that was inside. No wonder TIMEX reissued this model in 2022 at the 50th anniversary of the Q TIMEX Quartz.
With a diameter of 38mm these models were sporty and had a great wrist presence. At first in the well-known chrome or gold plated base metal cases but from 1977 on some models were available in all stainless steel. Fratello watches published an interesting story on the early vintage electro-mechanical hybrid Q TIMEX Quartz watches. Click on this link to read it.
TIMEX Collezione 75 Catalog
At the moment I have two nice Q TIMEX Quartz watches of it's first production year. The black brownish Day-Date 'Telephone Dial" reference 96850 and the golden Day-Date with black lacquered numerals reference 96860.
Both stylish watches you can wear to formal occasions as well as in a more leasure environment wearing jeans and a polo shirt.
Q TIMEX Quartz 1977 / 1978 Stainless steel
As mentioned earlier, in 1977 the stainless steel TIMEX Quartz watches appeared. Nothing special for most Swiss watch brands but for TIMEX it was a remarkeable step, Stainless steel was more costly than the chrome plated btrass cases they had been using untill then. Combined with the stainless steel TIMEX signed bracelets these Q TIMEX watches look astonishing on your wrist.
Black & white stainless steel versions of the Q TIMEX Quartz. The left one is the Olympic Q Quartz (1977) ref. 98870 and on the right you'll find the ref. 98850 (1978). Both on the same stainless steel bracelet.
Above my 1978 Q TIMEX Quartz Day-Date 'Falcon Eye' I recently picked up at a local clocks & watches fair. It has a mesmerizing blue dial and a sturdy stainless steel case. A typical product of the (late) seventies. It is powered by the TIMEX Model 73 (2 jewels) quartz controlled balance motor and the 357 battery.
Q TIMEX Falcon Eye 1978 Reissue
Much to my surprise, TIMEX announced that they would reissue this blue Q TIMEX Quartz 'Falcon Eye' on 11/20/2019. You will understand that I had to have this reissue also so I ordered it. A perfect Christmas present for me, myself and I.
Here you see them side by side. The reissue and the original from 1978. The one an almost perfect copy of the other. The steel bracelet of the watches gives away which is which. I applaud TIMEX for keeping an eye on their rich history.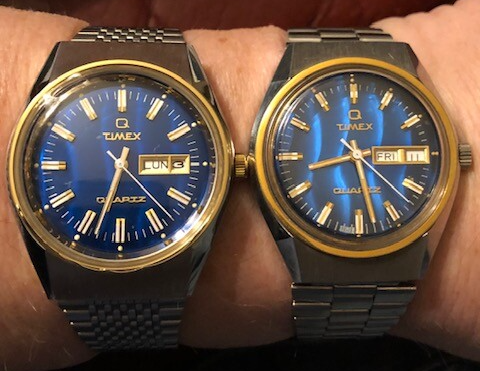 Q TIMEX 1978 Day-Date Crosshair Red Dot
A very lucky buy at a local watch & clocks trade fair brought me this fantastic Q TIMEX Quartz day-date. In pristine condition and on the original stainlesss steel bracelet. A model I was hunting for for a long time and one of the most outspoken Q Timexes out there. The combination of the black dial, the red crosshair stripes and the red dot seconds hand really stand out.
It's no wonder that TIMEX reissued this Q TIMEX Quartz in 2020, this time in collaboration with Todd Snyder.
Q TIMEX 1979 with Mercedes hour hand
My latest vintage Q TIMEX acquisition is this Q TIMEX Quartz Day-Date from 1979. Just like the original Q TIMEX Quartz Pepsi it has a Mercedes hour hand. This is rare because TIMEX never used these hands on their watches that were displayed in their catalogs.
It came full set from Germany in a TIMEX Logotime display box in NOS condition and on the original TIMEX signed stainless steel tapered bracelet. Managed to find another one on a blue leather strap (3rd picture). At the picture on the right you can see the reissue Q TIMEX 1978. A Dual Time because of the 24 hours bezel they put on this reissue.
Q TIMEX 1979 French Version
The French version of the above mentioned blue Q Timex 1979 Day-Date with aluminium bezel seems to be this Q TIMEX with a completely red bezel. Had never seen it before it came up for auction on eBay France. This red bezel really stands out and reminds me of the original Pepsi Q TIMEX with blue and red bezel. The watch came in the original Q TIMEX blue box which on the inside states "TIMEX Q Men's Micro-Computer Quartz Watch"
Q TIMEX 1979 Pepsi Bezel
I finally succeeded in obtaining my own Q TIMEX with the Pepsi Bezel. It took some time, but at least I have the original now. And the reissue as well as you can read below. I think I have all the 1979 originals because I haven seen original ones with all black bezel or the green and black bezel that were reissued by TIMEX a while ago.
Collecting TIMEX watches for me was collecting mechanical watches and the electric mechanical ones. Apart from the simple robust TIMEX movements the look and feel of the 70's watches was the main attraction of these watches. The Q TIMEX Quartz range didn't appeal to me in that way. So no TIMEX quartz watches in the collection. Until the Q TIMEX Reissue appeared! A flashy colorful sporty vintage-like watch.
First released in 1979, the original diver-inspired Q TIMEX gave a new generation a modern TIMEX watch with quartz technology. A true reissue, TIMEX recreated every detail - including the true-to-the-era woven stainless steel bracelet, functional battery hatch, rotating top ring, luminescent paint and ticking inside is a modern quartz movement.